New Data From Pew Research: "Record Shares of Americans Now Own Smartphones, Have Home Broadband"
From Pew Research:
Nearly nine-in-ten Americans today are online, up from about half in the early 2000s. Pew Research Center has chronicled this trend and others through more than 15 years of surveys on internet and technology use.
On Thursday, we released a new set of fact sheets that will be updated as we collect new data and can serve as a one-stop shop for anyone looking for information on key trends in digital technology.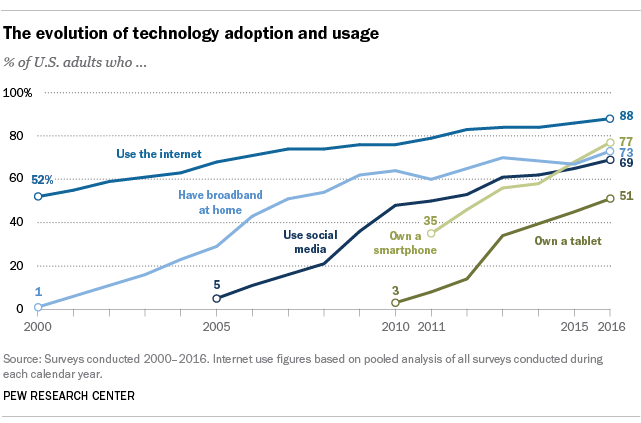 Direct to Complete Blog Post
Direct to Internet/Broadband Fact Sheet
Includes charts.
Filed under: Data Files, News
About Gary Price
Gary Price (gprice@mediasourceinc.com) is a librarian, writer, consultant, and frequent conference speaker based in the Washington D.C. metro area. Before launching INFOdocket, Price and Shirl Kennedy were the founders and senior editors at ResourceShelf and DocuTicker for 10 years. From 2006-2009 he was Director of Online Information Services at Ask.com, and is currently a contributing editor at Search Engine Land.