Fast Facts: The Fourth of July 2015
A collection of fast facts and stats relating to the holiday and provided by the U.S. Census.
All entries include link to additional info.
Here's some of what you'll find.
2.5 million
In July 1776, the estimated number of people living in the newly independent nation.
56
Numbers of signers to the Declaration of Independence. Benjamin Franklin, John Adams, Thomas Jefferson, Roger Sherman and Robert R. Livingston comprised the Committee of Five that drafted the Declaration. Jefferson, regarded as the strongest and most eloquent writer, wrote most of the document.
$369.4 million
Fireworks sales by retailers in 2012.
$1.8 million
Dollar value of U.S. flags exported in 2014. Turkey was the leading customer, purchasing $673,000 worth.
Direct to Complete Roundup and Infographic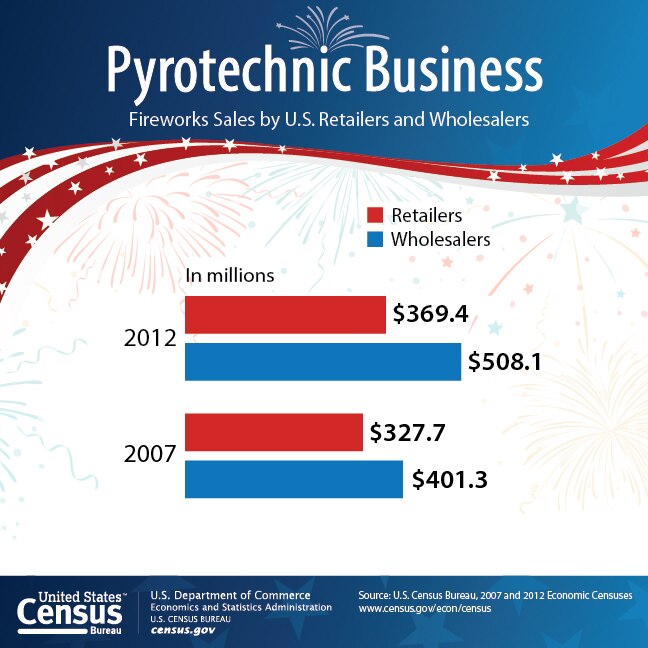 About Gary Price
Gary Price (gprice@gmail.com) is a librarian, writer, consultant, and frequent conference speaker based in the Washington D.C. metro area. He earned his MLIS degree from Wayne State University in Detroit. Price has won several awards including the SLA Innovations in Technology Award and Alumnus of the Year from the Wayne St. University Library and Information Science Program. From 2006-2009 he was Director of Online Information Services at Ask.com. Gary is also the co-founder of infoDJ an innovation research consultancy supporting corporate product and business model teams with just-in-time fact and insight finding.