Ready Reference: Mercer Releases 18th Annual Quality of Living Survey Rankings
From Mercer:
Despite recent security issues, social unrest, and concern about the region's economic outlook, European cities continue to offer some of the worlds' highest quality-of-living, according to Mercer's 18th annual Quality of Living survey. Safety, in particular, is a key factor for multinationals to consider when sending expatriate workers abroad, both because it raises concerns about the expat's personal safety and because it has a significant impact on the cost of global compensation programmes.
[Clip]
Vienna continues its reign in the top spot for overall quality of living, followed by Zurich (2), Auckland (3), and Munich (4).Vancouver (5) is North America's highest ranking city, and Singapore is the highest ranking Asian city, holding 26th place. Mercer's survey also identifies the personal safety ranking for the full list of cities; it is based on internal stability, crime figures, performance of local law enforcement, and the home country's relationship with other countries. Luxembourg tops the personal safety list and is followed by Bern, Helsinki, and Zurich – all tied in 2nd place. Baghdad (230) and Damascus (229) are the world's least safe cities according to the ranking. The safest UK cities are Aberdeen, Edinburgh, and Glasgow – all ranked in 44th place.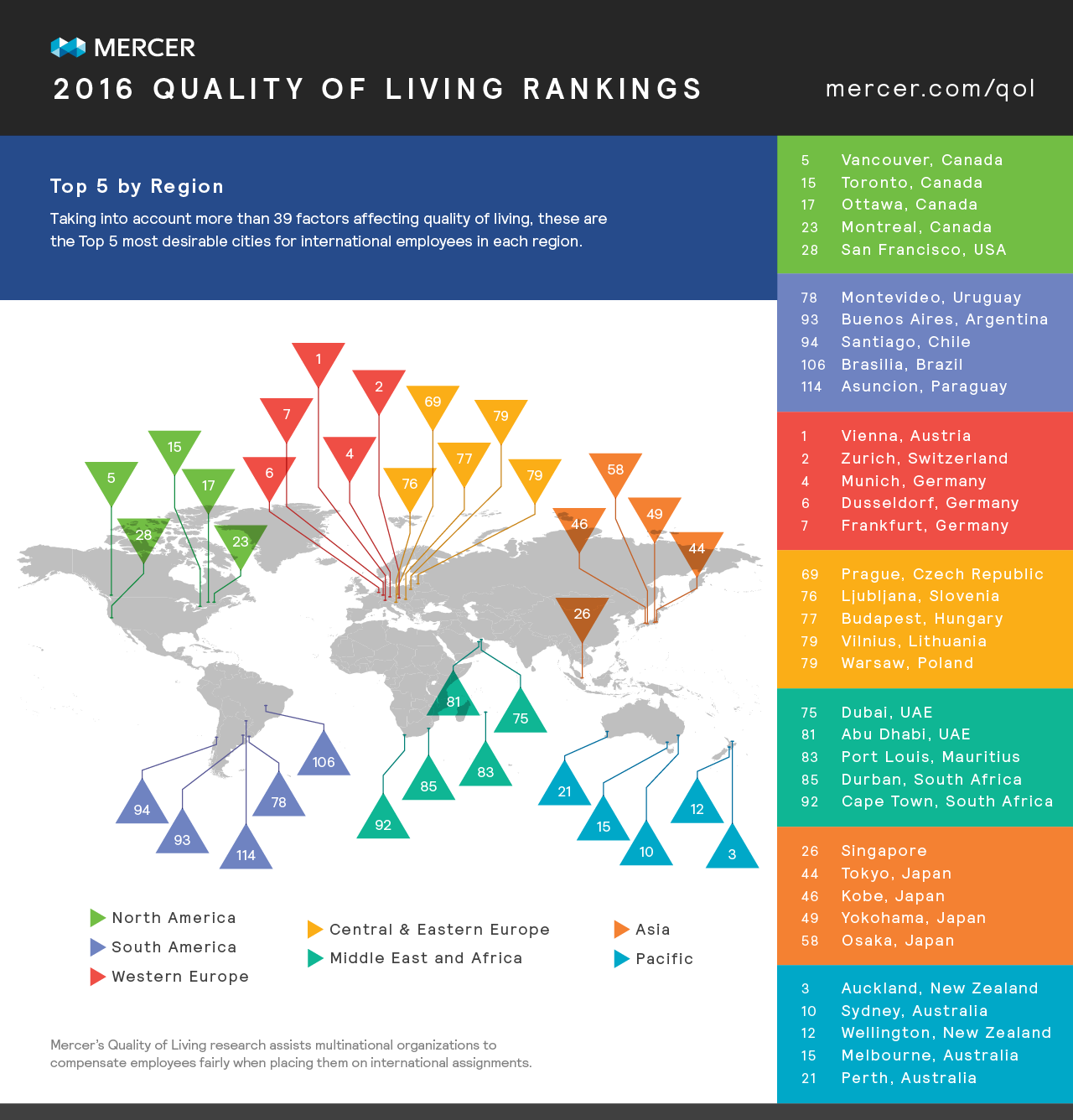 Direct to Complete Rankings
Direct to Three Infographics
Direct to News Release, Highlights
Filed under: News
About Gary Price
Gary Price (gprice@gmail.com) is a librarian, writer, consultant, and frequent conference speaker based in the Washington D.C. metro area. He earned his MLIS degree from Wayne State University in Detroit. Price has won several awards including the SLA Innovations in Technology Award and Alumnus of the Year from the Wayne St. University Library and Information Science Program. From 2006-2009 he was Director of Online Information Services at Ask.com.